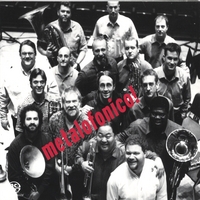 On Monday, we listened to several groups that fall under the category of "non-traditional" or "crossover" brass ensembles. Among them was Metalofonico, which is comprised of members of the Atlantic Brass Quintet, the Meridian Arts Ensemble, the Los Angeles Philharmonic, the Mexico City Symphony, and percussion from the University of Buffalo. The piece we heard is an original composition by Jon Nelson, professor of trumpet at the University of Buffalo, and founding member of the MAE, called
Insomnio
. In it, you may have heard influences of Ives, Tomasi, and Frank Zappa. You can hear Metalofonico on their myspace page
here
.
From the CD "Brassil plays Brazil", we heard track six, Gonzagueando, by José Ursicino da Silva ("Duda"). Duda combines typical Brasilian folk/pop music, but in a well crafted way, and the Quinteto Brassil plays brilliantly. You can order this CD
here
.
Ryhthm and Brass, from their recording Sitting in An English Garden." We heard track fifteen,
Money/Lollipop Guild/Eclipse
, which combines elements of the Pink Floyd and the Wizard of Oz. Rhythm and brass are best known for the fine playing, but also presenting the brass quintet in a new light, with the addition of percussion, keyboards, synthesizers, and elements of jazz and rock. You can read about and listen to Rhythm and Brass at their myspace page
here
.
One of my favorite Balkan Brass Bands is the Kocani Orkestar, from Macedonia. We heard
Solo Tapan
from their recording "Kocani Orkestar; Gypsy Brass Band." Kocani Orkestar is non only a Balkan Brass band, but they combine elements of "Western" popular music. I recommend listening to Romani Kaj on their myspace page
here
.
Finally, representing both "non-traditional" and "crossover", we heard the Bollywood Brass Band. They have combined the Indian Raga style of music used in films from "Bollywood", with elements of funk, jazz, and perhaps a bit of the British Brass Band tradition. We heard
Mere Yaara Dildara
from their recording "Rahmania; the music of
A.R. Rahman
" What, or where is "Bollywood"? It is the nickname for the film industry in Mumbai India (the Hollywood of India). The nickname combines the "B" (from Bombay, the former name of Mumbai) with the term "Hollywood".
The most exciting when you combine disparate elements, especially in music, is that you end up with a very interesting and appealing new genre. We have talked a lot about our history and traditions in brass ensemble literature, but never forget that there is a future - one that we all may potentially be part of creating.